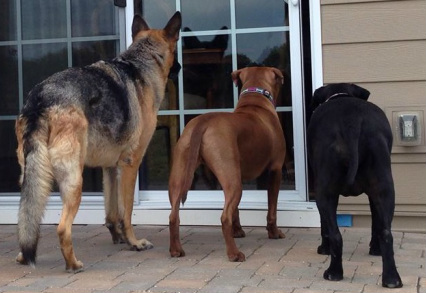 Our pack is your pack!
We provide compassionate care and personalize our service to meet the needs of your pets
Our level of service fills that void for when you need reliable, trusted, professional and calm care - similar to the kind of relationship you have with a family member when they stop by to check on your pets and your home. We've been visiting with local pets for more than 20 years!

We have many levels of experience on our team --- from volunteers at local rescues, to zoo employees, to a former volunteer at the Marine Mammal Stranding Center in Brigantine, NJ, where one team member assisted in the rescue and rehab of sea turtles, seals and other sea life. Each member of our team is caring, patient and calming to your pet.

Our services also compliment your dog training sessions! Simply share what's happening that week in class and we will help to reinforce the "good behavior" you desire from your pet during our walks and play time. If you are away and your pet needs emergency medical care we'll work closely with you and your vet. If you are in need of someone to assist your pet after surgery to keep a close watch over them while you are away, please don't hesitate to call. We realize it's beneficial to have companionship and someone to watch over them during these unique times (especially if they are wearing a cone or cast, etc.).

What each visit includes:
Each visit includes a walk, play time, replenished food and water -- and treats and affection! *We are not a watchers on the run. With each visit you can expect that we will provide one-on-one specialized play time for your pet to be sure they are receiving exercise and are entertained and happy while you are away.

We will also provide you a daily activity report (written, e-mailed or via text) to let you know what your pet is doing while you are away. Not only does this help you to have peace of mind, but enables us to work together in case there is something that we may need to change or adjust while your pet is under our care.

Additionally, we will make sure that your mail is brought inside and all papers removed from the driveway. We will water your plants and provide other general tasks to keep your property maintained. Be sure to visit our "Rate Sheet" and "Favorite photos" site pages for more information. Thanks!

Boarding: Ask us about our Slumber Parties on our farm! Email us for more information PamperedPawsPetCarePA@gmail.com

***
We service Chester and Montgomery Counties in PA, including but not limited to the following:
Chester Springs, Birchrunville, Kimberton, West Chester, Malvern, Exton, Downingtown, Thorndale, Honeybrook, Glenmoore, Elverson, Phoenixville, Oaks, Spring City, Royersford, Collegeville, Trooper, Lionville, PA and more!
---
Serving Chester AND Montgomery Counties, PA: Downingtown, Chester Springs, Lionville, Exton, Glenmoore, Elverson, Birchrunville, Kimberton, Phoenixville, Monte Clare, Collegeville, and more!
www.PamperedPawsPetCarePA.com
. Ask us about our Slumber Parties on our Farm! Bonded and Insured