Our team participates in various programs -- such as Chester County's annual Walk for Paws, horseback riding, dog training programs and other events such as "Paint it Forward" to help raise monies for local rescues. We are closely connected to the communities we service. Max (the GSD picture above) is our canine office "helper"!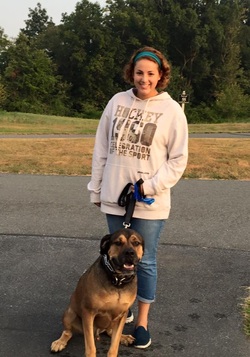 Meet the Team (Chester and Montgomery County teams!)

Lisa C.
Lisa joined the company in August 2006. Initially, Lisa applied for a part-time pet-sitter position. Ironically, while interviewing, I came to discover that Lisa also had a very skilled background in accounting and public relations. It was a perfect fit, as I was also looking for someone to help out in the office.
For several months Lisa handled double-duty, both pet-sitting AND keeping the office running smoothly. Lisa took a break from being on the road when she gave birth to her son, Justin on April 28, 2007. Now, Lisa works in the office as the Office Manager! She keeps us tech savvy and assists with the administrative duties, answering and returning phone calls, preparing the schedules -- as well as doing pet sitting on the weekends!
Lisa has her hands full with not only her three boys (Justin, Gavin, and Nolan), but also her cats! AND don't forget to ask her about her love for birds :)!!
Susan W.
Susan has been part of the team since the fall of 2001. From September through May Susan works as an instruction assistant in the reading department for first, second, and third graders in East Pikeland Elementary School. Pet-sitting started out as a way to supplement her income during the summer months, but has turned into much more. She
"finds great comfort in knowing that the pet sitting that I do is year-round"
. Susan does a select group of clients during the week, primarily afternoon, evening, and bedtime hours, as well as on the weekends and during school breaks. Susan takes on increased pet-sitting duties during the peak summer months.
Susan enjoys ALL the pets that she cares for as well as the awesome clients and pet sitters that she's gotten a chance to get to know and work with over the years. As Susan puts it:
"I enjoy working with the youth of our community, teaching and shaping the little minds that are our future…but for the fun of it, I enjoy caring for the pets of our community. It's a fantastic felling knowing that I can be there to feed, play, and walk YOUR pets just like I was their owner."
Donnie G.
In 2007 a mutual friend introduced Donnie to our management, insisting that he would be a great addition to the team. Well, she was right. Donnie has been the go-to-guy in the lineup of the company since early 2008, and is a HUGE cat lover. Donnie has two kitties of his own at home (Zack and Zeus), but he is a lover of ALL animals. Prior to his employment with us, Donnie worked for Pepsi Co. for nearly 30 years.
Tracey K.
A former Vet Tech, Tracey has been with the team since 2012. She has worked with pets since she was a kid, and has always enjoyed it.
"Animals tend to like and trust me, so I can usually work with them easily...even the "difficult" ones!"
<SMILE> Tracey does a steady mid-day route during the week, but she also covers vacation pet sits, as well as visits needed on nights, weekends, and Holidays. Tracey has her mighty Hercules at home (pictured right). Beginning in 2013, Tracey has set a goal to get involved with animal advocacy. Lastly, Tracey has a Master's Degree from the University of Pittsburgh in International Affairs. She is enjoying her work with us, and we are proud to have her as part of our team!
Liz M.
Liz is a lover of all animals -and shines when it comes to caring for dogs, cats and birds. She joined us in the spring of 2014 when two businesses were planning to come together to form Pampered Paws Pet Care PA. Liz was our go to girl in Chester County- covering our service area (big area) with no hesitation while we transitioned from Diane's Pet Care PA to Pampered Paws Pet Care PA. LIz is very active with rescues and finding lost pets. She is our social media rescue network diva :) If there is a lost dog- Liz is right there to help find its owners. She has a heart of gold and a great sense of humor that shines during her daily updates- or communications to her clients via her smart phone technology. Liz is a very hard worker who truly believes that you don't do the job unless you do it right the first time. We love having Liz on our team!!
Barbara H.
Barbara has been with us longer than any of the other team members! She saw a sign I'd posted looking for sitters and she applied.
"This company was just what I was looking for – to care for animals she knew were already loved."
That was in 1999!
In the many years that Barbara has worked for us, she has grown close to the many pets she's cared for as well as some of the great owners. Barbara has even gone to vet visits with some, not only to support the owners, but also to help comfort the pets. Barbara also works with a rescue group called "Spay and Save". Over the course of the last few years, she has had at least 25 cats and kittens pass through her home each year on their way to wonderful adopter homes. For more information about "Spay and Save" please visit their website at
www.spayandsave.org
.
"
If I had kept notes, I think I could write a book of all of the four legged friends I've had over the years working for this company AND in the rescue work . I wish so much that my world had gone in that direction years before it actually did.!"
Stephanie D.
Steph has been part of the team since 2006! In addition to covering a steady mid-day route - she covers a stream of additional stops throughout the course of any given day. Steph has always been an animal lover. When she was little, she would always take in stray cats and rehabilitate baby birds that she'd found.
"I love what I do. It is very rewarding to care for all of the dogs and other animals when their owners cannot be there. I care for each and every one as if they were my own."
Steph is married and has three children, as well as a cat, a ferret, a bird, and a dog who was abused that she adopted/rescued 5 years ago.
Connie P.
Connie is a client who joined the team in March 2014.
She came to us from the corporate world working in outside sales, and lastly as an office manager of three medical offices. She is really enjoying doing something that she loves to do. "
This
is not work, it is pure joy and I get to do it every day. I give the animals lots of love, but I get twice as much love back."
Connie is originally from the State College area, but has been in Montgomery County for 15 years. Connie is married, with a grown son. She currently has one dog and three cats that are all "rescue" animals.
Flo S.
Flo has been with company since early 2004. She works a full time job in Worcester where she focuses on providing products and services related to all aspects of electronics manufacture. Flo's love of all animals has been an ongoing part of her life and she deeply enjoys the opportunity to work with and get to know all types of pets. She has a small but dedicated group of regular clients. In addition to cats, dogs, fish and rabbits she is also experienced in handling exotics such as fancy rats, etc.
Jill N.
Jill has been with the company since early 2012 and she has been pet sitting since she was 9 years old.
"Neighbors would ask me to care for their pets while they were away, and it was something I always loved doing."
Jill lives in Phoenixville with her husband Paul, their 2 children, 2 dogs (Dusty and Piper), some tropical fish and a Guinea Pig (Jingles). Her experience includes volunteering part-time at a no-kill animal shelter in Radnor for 5 years (during the summer). Jill found us while searching the internet, and thought she'd be a perfect fit!
"This has worked out wonderfully for me. I can see my kids off to school, walk my own dogs, go out and see my client's pets, and be back in time for after-school activities."
"I love this job and I look forward to seeing the pets on my mid-day run. If you have me as a pet sitter, you should know that I will care for your pets as I'd care for my own. Your pets really make my day and you should feel confident that they are in good hands."
Amy N.
Amy used our services in the past and joined the team in March 2014. She has a long history of loving and caring for many types of animals. Amy grew up on a farm and helped care for horses, chickens, ducks, and rabbits…and of course lots of cats and dogs. Early in her career she worked at a local veterinary clinic as kennel help and then moved on to become a Humane Society Police Officer. Amy is a dedicated team member who writes and illustrates children's books!
Annaly B.
Annaly is a volunteer at the Chester County SPCA where she interacts with all dog breeds, cats, and any animals that ma be there while she helps. Annaly also helps to be the voice of many animals at the SPCA by taking fabulous pictures of the animals to help them find forever homes. She grew up with many pets and even started her own pet sitting business years ago. She has a heart of gold- adopting her own dog when someone who was moving was unable to take her with them. There was no doubt in Annaly's mind that this pups new forever home would be with her. When Nikki passed away Annaly wanted to do something in her memory to keep her spirit alive and so she started to volunteer to help other dogs who needed forever homes. She has a heart of gold and has worked with all types of pets and administered medications and lots of love and affection! We are thrilled to have her on our team!!
Margaret B.
Margaret has a heart of gold. She volunteered at MLAR and supports many causes and never seems to get tired or ever take a break from the animals she loves. She's super reliable "our anchor" in her service area. Her clients LOVE her and she truly is our "Mary Poppins of Pet Care" :-)! She is so personable to her human clients and known for her calmness to her fuzzy clients. She will go BEYOND what is asked and never give it a second thought. She is one of "those people" who never calls out sick because she LOVES her clients so much and they LOVE her :) We are so fortunate to have such a dedicated and caring soul on our team! Thank you Margaret :)) You are a shining star and we appreciate all you do!!
Karen M.
Karen is our horse expert. She grew up riding, jumping and showing and now she teaches her children the same! Karen is our partner in horse care and a wonderful friend we've known for years. She is truly and animal lover who enjoys the company of her own cats and all the wonderful wildlife her home attracts daily! She is outstanding when it comes to animal advocacy and doing the right thing to help others. We hare blessed to have her heart of gold on our team :)!!
Jillian F.
Stephen W.
Helen P.
Lora B.
Kelly C.
Tammy R.
Jennifer M.
Maureen G.Kate B.
Chrissy GEmily W.Jessie M.Amanda D.Samantha G.
... (Coming soon :)!
---