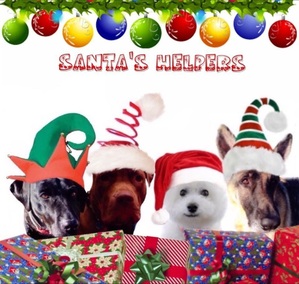 "Holiday Wishes 2015"
A page dedicated to those in our family of care! Spreading holiday cheer by sharing your holiday pictures, cards and wishes:

We love exchanging holiday cards but we want to do it online this year and virtually!! We get some really awesome pictures and cards from you and we want to highlight the holiday cheer here (on this page- scroll down) for all to enjoy!!!

Simply email us your holiday-themed pet pictures or a picture of your pet holiday card to PamperedPawsPetCarePA@gmail.com!!
---
Cooper is celebrating his FIRST CHRISTMAS!!!!! Above is Cooper with his brother Guinness!!! Pictured left is Cooper's very first Christmas stocking!!

Happy, happy tails to Coops :-)!! We love you little man !!! More than you will ever know :)!!

Love,
The Pampered Paws Team

---

Beau and Romeo are ready for the holidays in their new sweaters!! They make us smile :)!! Look at these two loves! Thank you for sharing Marion!! Too cute!!

---

Mia is ready for Santa!!!! She knows he's coming soon to her dog house and bringing special treats because she's been a super wonderful girl all year!!! She loves the camera!!

---

Alena's favorite time is Christmas! She loves to hide in all the decorations her mom puts up! Ummm... we wonder if she's a tree climber too ;) I bet we find out soon !!

---

Bouboul LOVES the holidays with his human mom and dad who took him touring NYC and Philadelphia to see the trees and decorations and activities!!


What a lucky dog!!

---

Holiday hangover already!!!! Santio isn't use to all this attention :) LOL!!!

---

Have a wonderful holiday season!!! Pictured is Cooper celebrating his first holiday!!

---

This is our pup Max who finally decided that the man in the red suit was safe and not such a bad guy after all :)!!!

Happy Holidays!!!!!!
Love,
Max

---

Ginny (pictured above) was rescued by the most loving family! She has a special place in our hearts too- as we were there the day she first met this wonderful family and we knew the moment we met her there was something VERY special about this pup!! From a shelter life to the beach, long walks, lots of love and a big fluffy puppy bed...she's loved to the moon and back :)!! Hugs to Ginny!!! Enjoy your holiday Ginny!!!

---

Twinkle, twinkle little Star! This is STAR! She's an amazing gal who greets us as we arrive to walk her sibling doggie brothers and sister.

Star recently gained a new sibling German Shepherd puppy sister and she slept inside the crate with her. They really love each other. A very active German Shepherd puppy chose her to be a best friend!!
"♡"


---

This is Bella!! Bella loves the holidays and the treats she gets from her amazing puppy parents :)! She also has a little brother now ...so keep your eyes open for a special picture of Bella with her awesome little brother :)!!

---

This is Bella's little brother Rocky! He's too sweet. He's a super happy All For Paws rescue pup. Happy Holiday Rocky!! You are so sweet and silly and we love how happy you are with your sister Bella!!

---

Santino's mom did a great job of grooming this handsome boy (left) for the holiday :) ...and getting him to sit still long enough to take this picture!

---

One of our team members took this sweet picture while Morgan's human parents had to travel over the holiday. Hugs to Morgan who did really well with her new hat :)

---

Gabby was not too keen on the hat at first, but warmed up to it fast and this was the only good picture we could capture. She wished her family a happy and safe holiday :)!!

---

Rescue Josie is celebrating her very FIRST holiday season in a very, very loving home!! Thank you Office Manager Lisa for adopting Josie and congrats on your first daughter (fuzzy or not- she's your daughter you always wanted :)!!! Holiday HUGS :)!!

---